Speck ABC is a sole UK distributor, based in Germany for pump manufacturing. SPECK Pumpen Walter Speck GmbH & Co. is running successfully since 1996. Worldwide known for quality and exclusive range of Speck pumps, they also deal in vacuums, side-channel, regenerative turbine, and thermal oil centrifugal pump ranges. They also deal in fluid handling Class A partners to INGERSOLL RAND – ARO. Running with the aim of customer satisfaction and flexible services, Speck has dealt in long term business partnerships with LOWARA and DESMI Gear Pump ranges.
Speck Pumps Division
Speck Vacuum pumps include a wide section of pumps for home and industrial purposes. Speck vacuum pumps are customizable and tailored to suit different needs and requirements of companies, that too belonging to different industries! These liquid pumps are available in different sizes and materials like brass, cast iron, stainless steel, etc.
Speck distributors are based in the UK and work in partnerships to supply DESMI gear pump ranges along with ARPUMA vacuum packages. You can even explore pumps and accessories by DESMI ROTAN, ARO PUMPS, and AIRTECH EUROPE.
Speck Tools Division
Speck's tools are looked after by Areena Tools, which host a wide variety of industrialized pneumatic tools.
Speck deals with major companies that include Chicago Pneumatic, Areena Tools, Desoutter, Ingersoll Rand, and Park Air.
Speck Services and Repairs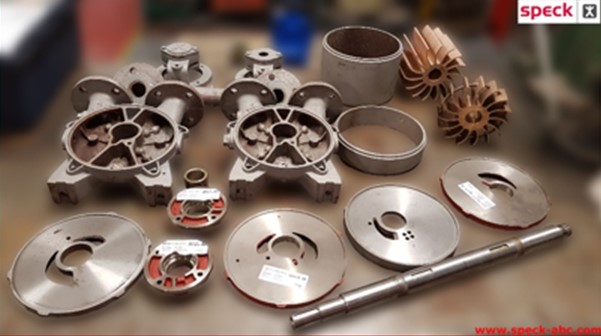 All machinery is reliable but with excess and regular use of pumps and pneumatic tools, there is a need for steady services to maintain efficiency. Speck ABC offers service and repair operation in Sandbach that deals in repairing and overhauling most types of pumps and pneumatic tools.
Our fully equipped repair and service facility are an Accredited Service Centre for Speck, ARO Ingersoll Rand and CP. All the pumps that are up to 45kW can be overhauled, repaired, or refurbished. The manufacturers pump that too of all types can be repaired, which includes side channel pumps, multistage pumps, positive displacement pumps, submersible pump, magnetic drive pumps, vacuum pumps, air operated diaphragm pumps, and centrifugal pumps. Not just this, everything that you buy at Speck ABC comes with 12 months warranty and 24-hours turnaround time. Speck also believes in good customer relationships that are important in the process of companies in the fields of plastic, food, chemical, and pharmaceutical industries.